~Jeannsies is 30 months old~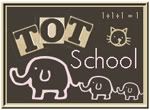 This week was very busy and less organized as far as tot school goes. We had several play dates and lots of fun. I felt kind of bad because there are so many great things you could do with the letter B, but we were so
B
usy I had to keep it pretty simple.
She started off the week at auntie's house and made a Butterfly with a coffee filter and glitter pens.
We did
our home invented letter sticker game
again, she really likes that game!
We played with her "Bugs" (colored pom poms from Wal-Mart). While I was busy cleaning my room, I found her playing with the pom poms and some sticks like chopsticks! I was so excited because I have not been able to get her interested in transferring things with tongs or tweezers before. These pictures make it look like she was really using chopsticks. Actually, the sticks were very flexible, so they sort of grabbed onto the bugs if she pushed on them.
We did this Bb matching game. I am a horrible person, but I can't find where I got this! I will post the link as soon as I find it.

She did a good job with it, but she wasn't too interested in playing with it more than once.
We went to the library for story time, and along with lots of B books, we got some dance videos. She has loved this, and I am excited that she can take a dance class without me paying for it! She and I have done these videos together almost every afternoon and it is tons of fun. Next I'm going to look for some music class videos.
The big trip of the week was on Thursday. The little cousin, jeannsies, auntie and I went to the East La Loma Park to ride Bikes and look for Birds through our Binoculars. I was really impressed with this park, and it felt great to be close to the river.
It's hard to see, but we found this really weird worm in a puddle. It was about 10 inches long and really skinny. The girls looked at it for quite a while. Great stuff!
Throwing rocks in a puddle, the greatest part of the day! Now that is some quality nature play!
Jeannsies used her binoculars to look for worms. She found some.